Lake Vyrnwy Romantic Hotel & Spa
A romantic Hotel for lovers of all ages.
What is the recipe for a romantic break with your loved one? For a start it needs a very special location. A place where you can both escape... from work, the family the housework - from any worries. For full details website link

Is it a log fire in the lounge after a wintry walk through the woods or a four-poster bed with fine Egyptian cotton sheets and a surfeit of cushions? Maybe it's a stunning view from the bedroom that you cannot tear your self away from or the luxury of quiet contemplation as you relax in an invigorating Jacuzzi.

Whatever your idea of a romantic break is you need look no further than Lake Vyrnwy Hotel, rich in ambience, big on style and passionate about great hospitality it is sure to add a spring to a new romance or refresh a longer term relationship.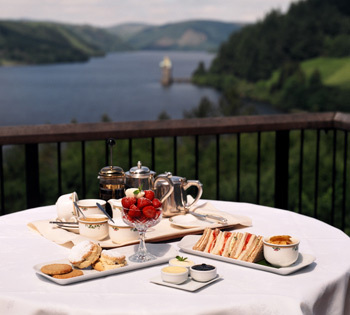 Appreciate together - The fantastic views across mountains, forests and the beautiful Lake Vyrnwy, from this hotel located high on the hills of the Berwyn mountain range.

Located in a 23,000 acre country estate, Lake Vyrnwy Classic Hotel (pronounced Vern Wee) is a place where you can escape from the hustle and bustle of life. The spectacularly contrasting scenery of the Snowdonia National Park with its dramatic mountains, wild moor land, forests and spectacular waterfalls combine to create a bewitching backdrop.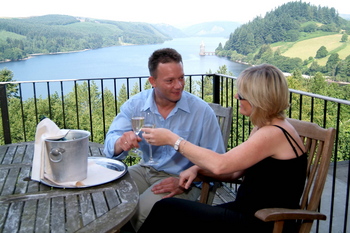 There is a warm welcome to greet you and a reassuring atmosphere of antiquity and tradition. Elegant yet relaxed, the hotel has the aura of a country house. All bedrooms are individually furnished and decorated, some with special features such as Jacuzzis, suites, four posters, and balconies not forgetting the cuddly lamb on the bed that dutifully will take up position out side your door to indicate to staff "Do not Disturb".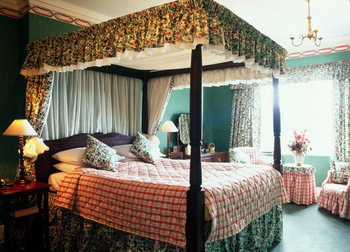 Have fun together - A superb range of leisure activities include such gentle pursuits such as fly-fishing, bird watching through to more vigorous activity including canoeing sailing, tennis, golf, mountain biking, clay pigeon shooting. More details website link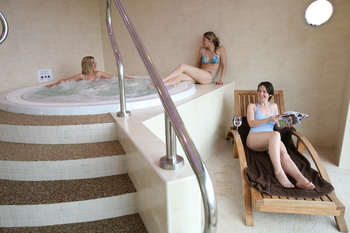 Relax together - A stylish spa with mesmerising views of Lake Vyrnwy

The hotels boast "a spa pool that may lay claim to the best waterside view in Europe" may not be an exaggeration. The view from the thermal suite and sun terrace, as well as many of rooms, is truly mesmerising — sparkling Lake Vyrnwy with its marque lone gothic tower encircled by the stunning North Wales countryside.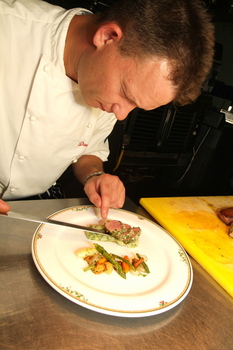 Escape together – Maybe the Lake Vyrnwy Hotel is a little unsure of its location; it's at the northern end of mid Wales, the southern end of Snowdonia and North Wales not close to a major town or city. The truth is arriving at the Lake Vyrnwy Hotel is like entering a new world and going back to an earlier time devoid of the hustle and bustle of modern life to escape to old world charms and service that Lake Vyrnwy Hotel and the surrounding countryside offers.

Enjoy together – Maybe your dining experience will start in the Drawing Room with its log fire, grand piano for pre dinner drinks in the comfortable chairs and settees studying a menu designed to alert your taste buds to get ready for action stations.



The hotel restaurant is fronted by a conservatory, with one of the finest views from any restaurant anywhere.
Our menu changes with the seasons, with emphasis on fresh and local produce. Most of the game produced by the Estate comes to the hotel kitchen. Fish is brought to us from our fishmonger in Pwlhelli, and Jones the Meat from Bala brings the very best of Welsh beef.
The hotel even has a small flock of sheep which supplies the kitchen.
Our cooking style is fairly modern, although not, you'll be relieved to hear, with those stingy nouvelle cuisine portions: After a day out in the fine Welsh air you're likely to develop rather a hunger.
The AA has awarded our kitchen a rosette for its culinary excellence.
A truly romantic hotel in Wales website link
Lake Vyrnwy Romantic Hotel & Spa Statistics: 575 click throughs, 29484 views since start of 2022
Lake Vyrnwy Romantic Hotel & Spa in

Llanwddyn
Tariff
From £72.50 per person per night.
Facilities
Grading and Awards

Country House Hotel

News and Special Offers
Perhaps a Brolly Break?

Or if real peace is what you crave—come for three evenings midweek in the autumn—pay for two nights dinner bed and breakfast, and one night's bed and breakfast is free. In the unlikely event that it might rain a little, we give you a brolly. That's why it's called the Brolly Break. Cream tea on two nights, logo'd brolly (a limited edition collectors item!), a plastic duck for your bath. If it doesn't rain or snow, then we'll give you a bottle of champagne to take home. Call or email to check availability and prices.

For information on these breaks and more phone 01691 870692.

Why not join our email club (link) and get news of special breaks and offers?